Starting a podcast is
simple, but not easy.
The good news is that it's a lot easier than the first time I started.
Back then you had to be fairly technical and figure out:
The ins and outs of RSS feeds
Audio file types and sizes
Advanced audio editing
And of course, figure out how to record remote guests with software that wasn't at all designed for it.
Those issues are mostly solved now – which means you can focus on creating a great podcast.
But what does that even mean?
You still need to have an interesting topic, engage your audience, and create something that people will look forward to listening to.
That part hasn't changed.
You might want to create a podcast to:
Share you knowledge
Grow (or start) a business
Improve mental health
Spread the gospel
Tell a story
Interview interesting people
Or any number of other reasons – I've seen it all!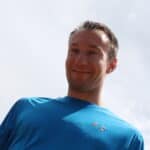 Hey, I'm Ross Winn – the creator of Podcast Insights.
I've helped millions of people start, grow, and monetize a podcast through Podcast Insights, the industry-leading podcast education resource.

Podcasting has had steady, slow growth for a decade, but recently has seen an uptick in both new podcasts being created and a spike in listeners.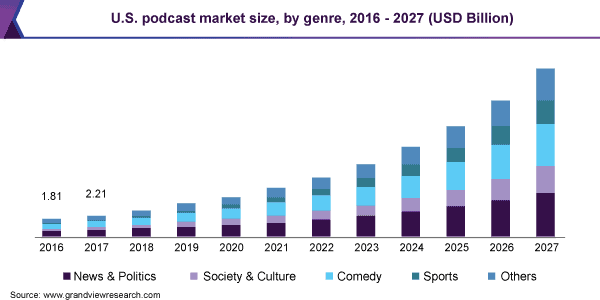 Even still, podcasting is relatively small compared to other platforms popular with creators like blogging or YouTube channels.
And it is projected to grow faster and faster every year.
This means it's that much easier to stand out and get found right at the point in time when more people than ever are looking for shows to listen to.
It's the perfect time to get started!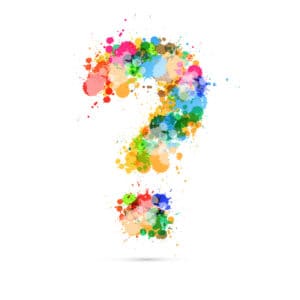 But if you're anything like me, you have a thousand questions:
What do I talk about?
What equipment do I need?
What software should I use?
How do I record remote guests?
Where do I even put my episodes?
I was worried I wouldn't have enough to talk about, how to get guests, and so much more.
When I started my first podcast, I wish I just had someone to guide me every step of the way.
Well, good news – you can!
Introducing…
Podcasting Simplified
The easiest step-by-step system to create and launch a podcast
Starting today, you will learn everything you need to know to successfully start a podcast.
The Podcasting Simplified system is broken down into separate modules that allow you to focus on one step at a time.
Module 1: Planning
Idea Mapping (Worksheet Included)
Episode & Topic Ideas (Worksheet Included)
Naming Your Podcast
Crafting A Show Format
Creating Exciting Episode Segments (Examples Included)
Module 2: Preparation
Equipment
Cover Art
Description
Intros & Outros
How To Get Guests (Outreach Template Included)
Module 3: Recording & Editing
Equipment Setup
Creating A Recording Template (with Windows & Mac tutorials)
Recording Tips (Including Remote Recording)
Interview Tips
Editing Your Episode
Improving Audio Quality
Module 4: Prepare For Launch
Where To Put Your Episodes
Create A Trailer
Get Set Up For Success (And The Unknowns)
Start To Spread The Word
Module 5: Launch
Directory Submissions
Celebrate!
Module 6: Post Launch
Batch Recording & Editing
Scheduling
Growing Your Listeners & Subscribers
You're welcome to skip around, but you'll have the best results if you follow the system in order.
A highlight of what you'll learn
Planning
How to choose the perfect topic (with a built-in audience)
How to mine for episode ideas that people are demanding
Crafting a podcast name that won't turn people away
Formatting your show and episodes to drive engagement and repeat listeners
Preparation
The exact equipment you need without spending a fortune
Make a great first impression: designing cover art that attracts
Why your podcast description can quickly turn off a potential listener – and how to do it right
Why certain intros pull people in – and why some make people hit the back button before your episode even starts
WIFM method of getting great guests that provide a great experience for your audience
Recording & Editing
Detailed equipment setup (simply copy what I do)
File organization and episode template setup for quick & easy editing
How to record the RIGHT way
Keep interviews flowing: how to ask and guide your guest
How to edit & publish quickly
How to increase audio quality with a few clicks (no advanced audio engineering degrees required)
Prepare For Launch
Recommended settings and platforms to serve your episodes
What to include in your episode notes (many people do this wrong)
How to tease your new show
How to prepare for "failure"
Launch
This is the easy part
Time to celebrate – you did it!
Post Launch
How to create and edit episodes FASTER (without losing quality)
Tips & strategies to get more listeners & subscribers
And more!
Easily Accessible
Every lesson is available in video, audio & transcript formats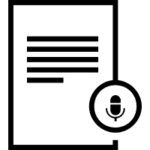 Podcasting Simplified also includes…
Downloadable worksheets
"Copy and paste" templates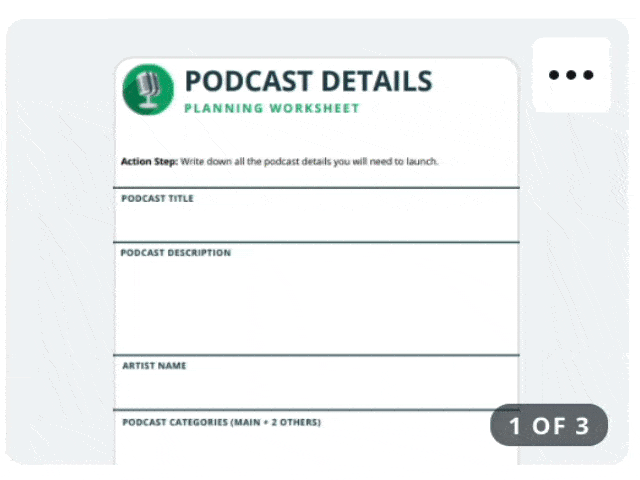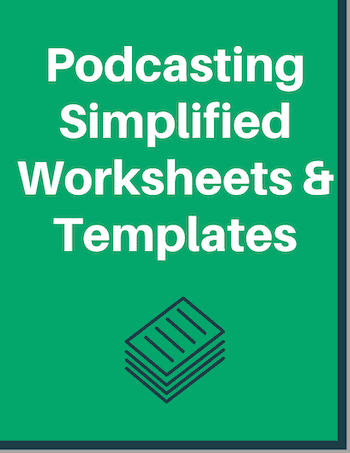 Frequently Asked Questions
What if I have an interview show? What if I don't have a co-host? What if…?

My advice to you: don't worry about the "what if's" – we'll cover everything you need to know to get started for almost every type of show. If you are planning to do a highly produced fictional audio drama, this might not be the course for you. Send me an email and I'll connect you with the right people.
What if I don't have an idea for a show?

No problem! You'll work through a series of exercises to help you figure out what you're interested in and we'll make sure you have plenty of content to talk about before you get started.
I'm not tech-savvy at all. Will I be able to do this?

Absolutely! I've helped people of all experience levels and people from 8 to 80 years old. You'll see exactly how to hook up the equipment, how to easily use editing software, and where to publish your podcast. Just follow step-by-step.
Will I have to buy additional equipment or software?

While you don't have to, I do recommend investing in the quality and success of your podcast by getting a decent microphone and using a paid podcast hosting provider. You can definitely use free recording and editing software – I'll show you how.
When does the course start?

It's a self-paced course that starts as soon as you sign up. You'll get instant, lifetime access. Any updates or additional material will be provided free.
What if I'm not happy? What is your refund policy?

Try Podcasting Simplified, 100% risk-free for a full 30 days.

If you're not happy, simply send me an email asking for refund any time during the first 30 days and I'll refund 100% of your price.
I know you have other options to learn podcasting
Sign up for an in-person workshop: You could spend $3000+ plus airfare and lodging to spend a day or two learning in person. This can be great and works for some, but you'll have to wait until one is available and spend thousands instead of starting today.
Try to figure it out on your own: Sure, you could keep Googling various aspects of podcasting, audio equipment, interviewing, acoustics, marketing, etc. but you'll get different answers that don't necessarily work as a cohesive system.
Plus, you don't know what you don't know. That just means you don't even know what questions to ask in the first place – it's totally normal, I was there too when I first got started.
The good news: I've spent years teaching and immersing myself in podcasting while creating the industry-leading website and resource.
I've distilled just the critical info for you to get started as easily as possible – all while avoiding common mistakes.
Do nothing: How often have you said to yourself that you just need an idea, or a plan, or to read one more article? I've done the same thing and that usually leads to procrastination that starts with a week, then a month, but then you find yourself years later wondering why you haven't started. How many excuses are too many? Are you ready to commit?
Yes! I want lifetime access to
Podcasting Simplified

Exclusive Bonus:
Free Podcast Review ($200 value)
All you have to do is fill out a simple form so I know where to find your show and I'll review your podcast and provide detailed feedback and suggested updates.
I'll consider everything:
Title
Cover art
Audio quality
Episode format
And more
You won't find anyone else doing this because it takes time – and I want your show to succeed.
The only criteria is that you have 5 episodes live.
Podcasting Simplified is only available for a limited time. It's 100% risk-free and you can get started for as little as $127. See you inside!
Yes! I want lifetime access to
Podcasting Simplified